Quality.
Since the company started nearly 40 years ago in 1981, Paras Homes has been one of the Inland Northwest's most recognized home builders. Specializing in homes that make a statement, both in quality and innovation, Paras homes offers award winning designs in diverse communities. Continued use of the finest materials, expertise in project planning, and a firm commitment to following all details through to completion have been foundations of Paras Homes since day one. From entry level pre-sales to high-end custom homes, a Paras home is one of the best investments in the market today.

Craftsmanship.
For years, Paras has assembled the best in the business, including the most highly skilled craftsmen at each phase of construction. Pride and attention to detail lead to an exceptionally constructed home, and this is reflected in the satisfaction of homeowners.

Consistency.
Paras Homes takes immense pride in regard to consistency. Most of the company's key parts have been in place since the beginning, including lead Superintendents, Subcontractors, and highly skilled employees. The end result includes years of experience working together to ensure the best product. This high level of cohesion and consistency has been proven time and time again!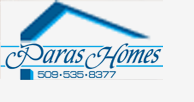 Paras Homes is proud to be one of Spokane's premiere homebuilders! Since the company started nearly 40 years ago in 1981, our homes and neighborhoods have been built with the goal of creating long-lasting value. We have tremendous knowledge and experience in all phases of construction, and the end result is a quality home built at the best price, and with long term value.
Our mission at Paras Homes is to build homes and communities that we are proud of! The trademark of the company is to be a builder of fine homes, with stated goals of quality, craftsmanship, and consistency.
We have accomplished our mission and goals for many years, and we have now built nearly 2,000 homes throughout the region. The majority of our key employees and subcontracting partners have been with us for over 35+ years. This level of cohesiveness and experience results in a high level of customer satisfaction, and our homes and neighborhoods produce some of the highest re-sale value in Spokane.
Overall, each of our homes are highly customized, whether it is a custom or speculative home. Through the years, 1/2 of our houses have been built specifically for the owner, which means that we have a proven ability to meet our owners' wide ranging needs and objectives. Additionally, our high level of success in selling speculative homes on a consistent basis shows that we are in touch with the market, are price competitive, and provide great value!
Feel free to learn more about Paras Homes by contacting us, or by talking to realtors, bankers, or our past clients. You may also tour our homes and neighborhoods at anytime.
Thank you, and we hope you will consider Paras Homes in 2021!
Mailing Address:

603 N. Havana St., Spokane, WA 99202

Telephone:

(509) 535-8377

Fax:

(509) 534-4239

Information\Warranty:

information@parashomes.com

We stand behind our homes with one of the most substantial warranties in the business, and customer service that backs it up.
Paras Homes customers are welcome to contact us with any issue through the contact information listed here.